Once the Kent Hull Lineman of the Year Award was started, The Hull Foundation started to think about the potential benefits of having a title sponsor for the award. Through the help of Governor, Phil Bryant, and his staff, a meeting was set between The Hull Foundation and Entergy Mississippi's CEO, Haley Fisackerly. The group learned very quickly that this partnership was going to be a great fit. Entergy, an extremely philanthropic organization, is constantly seeking ways to support the communities in which they do business. Not only did the Entergy Kent Hull Partnership of Greenwood, MS, help the continuity of the award, it also presented an opportunity for Entergy to honor some of their own employees, or "Lineman".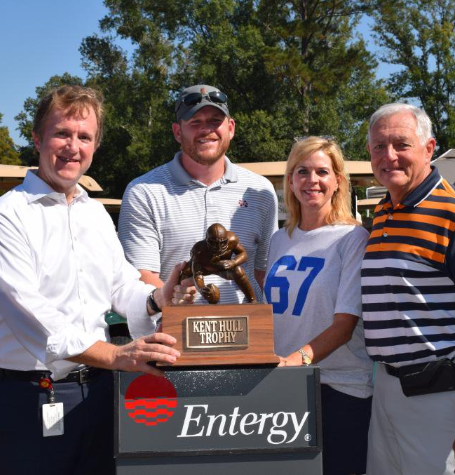 In conjunction with the award winner being honored, Entergy's top employees, or "lineman of the year", will present the trophy to the winner, along with being able to attend the Conerly Presentation ceremony and dinner with Haley Fisackerly at their table. While this is a great match for both parties involved, the biggest winner of this partnership is The Candlelighters, (link to The Candlelighters page) as all of The Hull Foundation's fundraising efforts will go directly to them.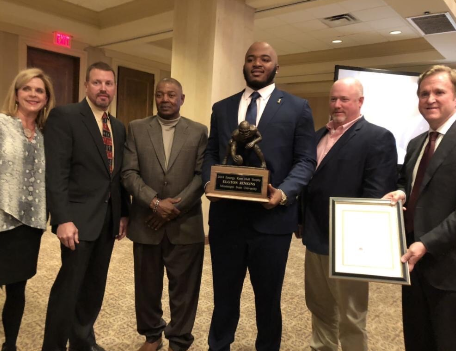 Haley Fisackerly (Entergy), Drew Hull (Hull Foundation), Kay Hull (Hull Founation), and Bill Blackwell (MS Sports Hall of Fame) with the Entergy Kent Hull Lineman of the Year Trophy during the official announcement of the partnerhsip.
Haley FIsackerly (right) with Entergy's Lineman of the Year winners at the Conorely Trophy presenation for 2017
PARTNERSHIP WITH ENTERGY MISSISSIPPI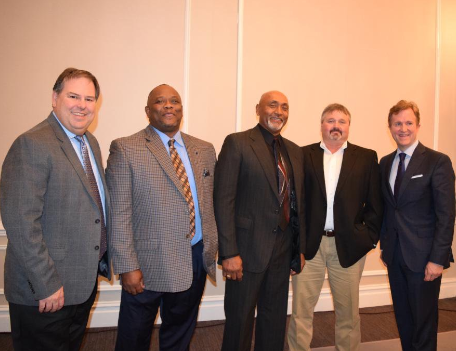 Haley FIsackerly (right) with Entergy's Lineman of the Year winners and Kay Hull (left) at the Conorely Trophy presenation for 2018